Clarity™ Advanced Clear Braces

Clear and Confident Smiles with 3M™ Clarity™ Advanced Clear Braces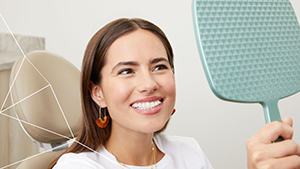 Clarity Advanced clear braces stand out as a great choice when you want to change your smile with braces that blend in.
The translucent ceramic brackets are designed to blend in with the natural color of your teeth. This means you don't have to wait until your braces come off to enjoy your smile. You can feel confident and smile brightly both during and after treatment.
Inspired by 3M science, Clarity Advanced clear braces are so small in size and big on comfort that you may even forget you're wearing them. They offer an aesthetic solution for adults and teens to get the healthy, beautiful smile they want.
If you are ready to change your smile and want to find out if Clarity Advanced clear braces are right for you, schedule a consultation today!
Reasons to Smile
It's easier than you may think to get a straighter, more beautiful smile and look good doing it. Clarity Advanced clear braces are small, so they allow you to enjoy the little things in life with freedom to eat or drink whenever you want.

Designed for Your Comfort
Clarity Advanced clear braces are small and smooth, with rounded corners to reduce rubbing and irritation.
Virtually Unnoticeable
Clear braces are translucent to blend in with the natural color of your teeth. They resist staining and discoloration, which allows you to smile confidently.

Convenient and Easy Care
Clear braces require no daily maintenance beyond normal brushing and flossing, and there are no trays to keep track of.

Always In and Working
Unlike other aesthetic treatments options such as clear aligners, which need to be removed for eating and most drinking, Clarity Advanced clear braces stay in place so your treatment is always advancing.
Show Your Style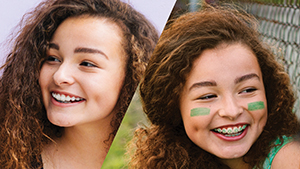 Clarity Advanced clear braces give teens the versatility to go from blending in to being bold simply by changing ligatures (bands). Have fun finding a look that totally expresses who you are and makes you smile. With more than 20 colors to choose from, you can coordinate with life's biggest moments while on the path to lifelong oral health.
Go loud and bright with vibrant colors or choose bands that are clear and blend in with your teeth. Try on any look you like and find out what fits your style at PaintYourSmile.com.
3M and Clarity are trademarks of 3M. Used under license in Canada. © 3M 2019. All rights reserved.